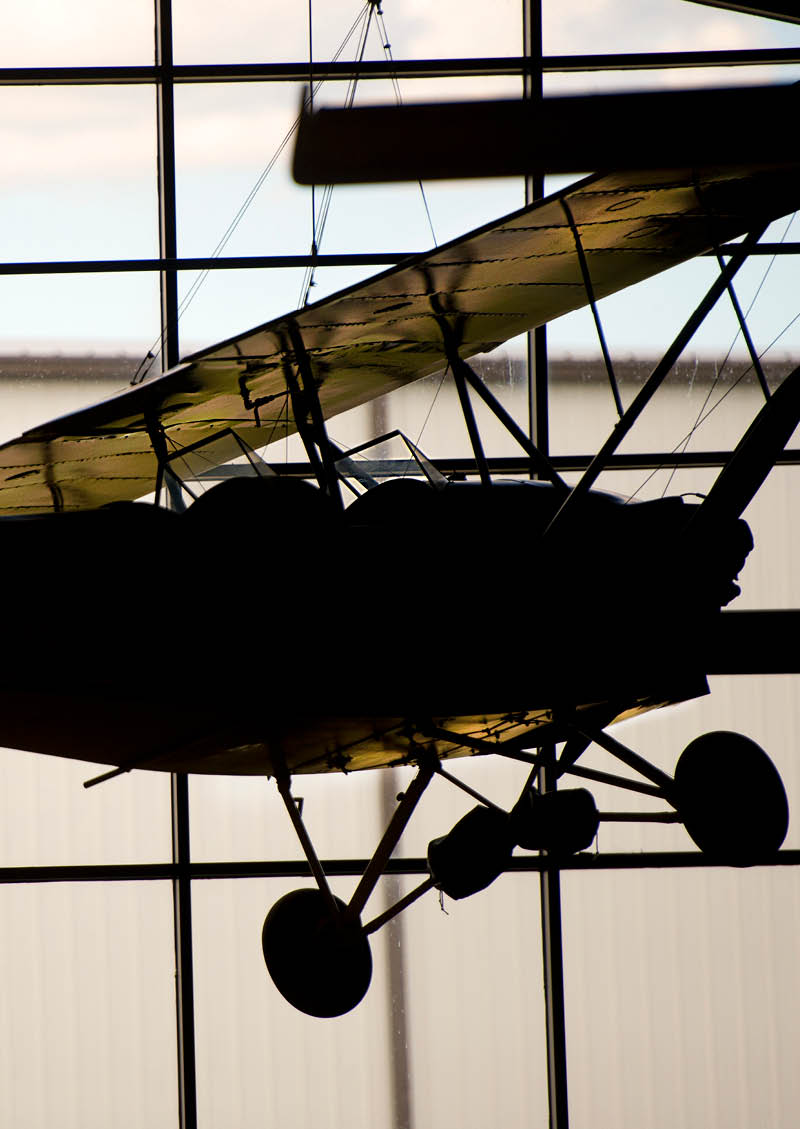 Founded in 1986, the Dakota Territory Air Museum has proudly evolved into a significant historical depository honoring the men, women and machines that have impacted the rich history of aviation.  Through displays and events that inspire, educate and entertain, the museum has become a viable and important historical resource for our region and the state of North Dakota. 
The plans laid out by the museum's founders were that the museum would not only be a place to display military and vintage aircraft, but would become a place dedicated to passing on the rich and varied stories of our region's aviation history.  In the short time since the museum's beginnings, the founders and members have built a solid foundation, establishing a working museum with aircraft, restoration projects and have secured a leading role in the region's promotion of all aspects of aviation.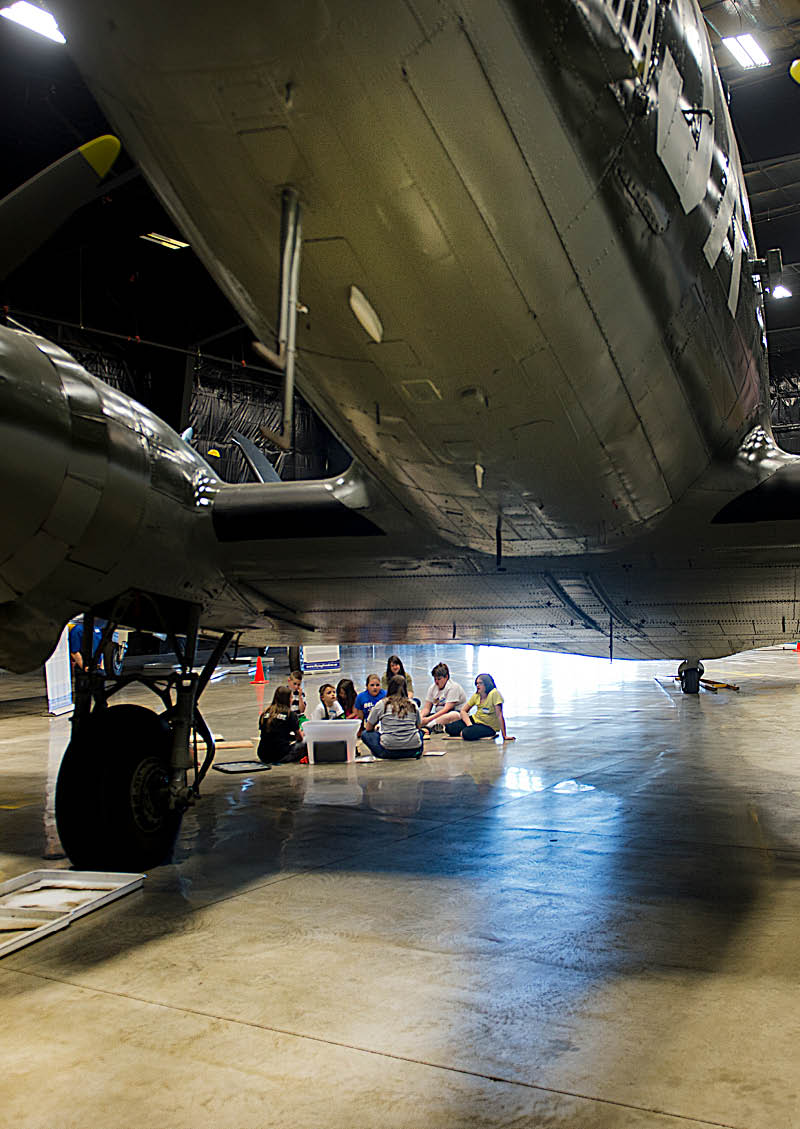 Larry Linrud, President
Rich Larcombe, Vice President
Don Larson, Treasurer
Jonathan Rued, Secretary
Michael Chilson
Lee Keller
Duane Haugstad
Gary Johnson
Samantha Blessum
Austin Greenheck
Rod Loken
Warren Pietsch
Brian Sturm
Museum Director
Jenna Grindberg
Wright Flyer Hangar
This hangar holds a full-scale replica of the Wright Flyer built right here at the museum in 2003.  There are also models, memorabilia, mannequins, art work and artifacts that offer a glimpse into North Dakota's early aviation years along with a view of national and international topics including Early Years of Powered Flight, World War I, World War II, Korea, Vietnam, Operation Desert Storm, Operation Enduring Freedom, Operation Iraqi Freedom, Minot Air Force Base history, Women in Aviation, and more!
Flying Legends Hangar
The Flying Legends Hangar of the museum is home to a fleet of iconic WWII military aircraft. The museum is grateful for the opportunity to showcase these magnificent warbirds that have been restored to flying condition.  It is our objective through this impressive display of military aircraft to preserve the history involved in protecting our nation's freedoms, to honor our veterans and active duty military, and to inspire future generation of leaders.
Scott Nelson Gallery
A deep respect for World War II veterans and the era's aircraft inspired North Dakota artist, Scott Nelson, to interview veteran aviators from North Dakota and to paint their heroic stories on canvas.  Each painting was a collaborative effort. Once satisfied with the depiction of their story, each veteran signed their painting to give it authentication.  Sixteen works of historic art hang in the Scott Nelson Gallery at the museum.
Oswin Elker Hangar
North Dakota native, Oswin H. Elker, served with distinction in WWII as a P-40 Warhawk pilot with the Flying Tigers.  He was shot down twice and escaped both times through enemy territory.  Oswin was impassioned with the museum's mission.  His financial generosity after his passing resulted in the construction of the Oswin Elker Hangar.  The Oswin Elker Hangar is filled with civilian aircraft, commercial displays, Carl "Ben" Eielson history, and early North Dakota aviation history; everything from a replica 1910 Curtiss Pusher to a Learjet.
Restoration Hangar
The restoration hangar was the first hangar built for the airplanes and exhibits of the museum. As the museum expanded, this hangar has become the home for planes needing restoration.  One of the projects completed is now an airworthy 1929 Arrow Sport currently on display in the Elker Hangar.  The restoration hangar is also home to three antique firetrucks that served Minot's past as well as aircraft engines and vehicles in various stages of restoration.
Outdoor Displays
The static aircraft displays on the museum grounds include the Spitten Kitten exhibit.  This exhibit includes three aircraft types flown by the 5th Fighter Interceptor Squadron while at Minot Air Force Base from 1960 to 1988.  The squadron got its name when given a pair of Canadian Lynx mascots named "Spitten" and "Kitten."  Ground displays also include a C-47 Skytrain, and an A-7 Corsair II once flown at Edwards Air Force Base and ending its career at Minot Air Force Base.
Outside Static Display Aircraft
The "Spittin Kitten" exhibit consists of the following three aircraft:
Lockheed T-33 Shooting Star
Convair F-106 Delta Dart
McDonnell Douglas F-15 Eagle
Other Aircraft on Static Display Outside:
Douglas C-47 (DC-3).
L-T-V (Chance Vought) A-7 Corsair II

Flying Legends Aircraft*(These WWII-era aircraft are all airworthy with the one noted exception.)
*Please note that the warbirds travel frequently in the summer season and may or may not be present during your visit.
P-47D Thunderbolt "Bonnie"
P-51D Mustang "Dakota Kid II"
P-51D Mustang "Little Horse"
P-51D Mustang "Miss Kitty"
P-51C Mustang "Lopes Hope 3rd"
P-51C Mustang "Thunderbird"
P-40E Warhawk
Spitfire Mk. IXc "Half Stork"
Hawker Hurricane Mk. XII
FM-2P Wildcat
C-47/C-53 Skytrooper "Duchess of Dakota"
P-40 Warhawk (under restoration for a static display)
Harvard Mk. IV
Interstate L-6 Cadet ("Grasshopper")
Stinson L-5 Sentinel
Civilian Aircraft
1910 Curtiss Pusher (a replica built in 1964 for the movie The Great Race)
1929 Waco 10/GXE
1929 Arrow Sport
1930 Arrow Sport Model F*
1931 Waco QCF-2
1932 Monocoupe 110 Sport Airplane
1934 Fairchild 24 C8C
1934 Stinson Reliant SR5-A
1937 J-2 Taylor Cub*
1938 Monocoupe 110 Special Racer
1940 Waco UPF-7
1941 Interstate Cadet
1942 Piper J-3 Cub
1943 Beechcraft Staggerwing
1945 Taylorcraft
1946 Luscombe 8A
1946 Aeronca Champ
1946 Erco Ercoupe*
1947 CallAir
1947 Cessna 195
1952 Beechcraft Model 18
1958 Mooney
1967 Starduster Too
1969 Open-frame "Breezy"
1969 Model 24B Learjet
1972 Pietenpol Aircamper Experimental
1974 Volksplane (powered by VW engine)
1980 Cessna 185 "Polar Pumpkin"
1982 Rutan Vari-Eze
1984 Aviat Christen Eagle II
1989 Rotorway Exec helicopter
Cessna 170
2/3rds Cub Experimental
Rally 2B Ultralight
Piel Emeraude Experimental
Douglas DC-3/C-47 Cockpit (Cabin) Display*
Wright Flyer (full scale replica)
*Indicates aircraft awaiting restoration
Also on Display
A Link Trainer
The Minot Airport Beacon which guided pilots in the Minot area from 1949 to 1993 (the beacon is operational).
The museum has secured numerous aviation photographs and a large collection of aviation literature and periodicals. There are models, memorabilia, mannequins, art work and artifacts that offer a glimpse into North Dakota's early aviation years along with a view of national and international topics. Collections related to military aviation service flight gear and aviation's role in the region's agriculture and transportation needs are on exhibit.
Military jeeps
Old vehicles, including a 1917 Buick D45 and a 1924 Ford Model TT
Minot Fire Department trucks from '20s & '30s
Location
100 34th Ave NE
PO Box 195
Minot, ND 58702-0195
Contact
(701) 852-8500
airmuseum@minot.com

Hours
The museum is NOW CLOSED for the winter!  We will reopen in May 2024!
Seasonal Hours (Mid-May to Mid-October):
Monday: 10am-5pm
Tuesday: 10am-5pm
Wednesday: 10am-5pm
Thursday: 10am-5pm
Friday: 10am-5pm
Saturday: 10am-5pm
Sunday: 1pm-5pm
Admission
5 & under Free
6-17 - $5
Adults - $10
Family* - $20
Active-Duty Military Members- Half-off regular admission
School groups (and other groups of ten or more) are welcome by appointment (weather-permitting). Please contact us by email at airmuseum@minot.com or by calling at 701-852-8500.
*Family is considered parents and their immediate children under the age of 18.  Extended family members will need to pay separate admission.